Description: Single-cask bourbon is Ivan's favorite liquor. Single cask is a premium class of liquor in which each bottle comes from one individual aging barrel. The rich and fruity flavor of nonfiltered, absolute and unblended straight bourbon allows him to enjoy a pleasant time.
Mission 1 - Outlaw in the Backyard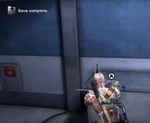 Location:
The room where you Open up the lattice door.
Description: Rum is a distilled alcoholic beverage made from sugarcane byproducts. It's also a base in many cocktails such as the Mojito, Daiquiri and Cuba Libre. However, Ivan prefers to drink it straight, like the pirates who use to romp around in the Caribbean Sea did.
Mission 2 - Day of the Dead
Location:
Scotch Whiskey
Edit
Description: Whiskeys have distinctly different characteristics based on their country of origin and method of production: smooth Canadian Whiskey, mild Irish Whiskey and - Ivan's favorite - Scotch Whiskey, which is made in Scotland with a smoky flavor derived from peat.
Mission 3 - Far Eastern New Republic
Location:
Description: A vodka flavored with herbs grown naturally in Białowieża Forest (a UNESCO World Heritage Site). Notable features include a brisk flavor and smoothness. Ivan thinks about the wild primeval forest while in his underground cell in Guantanamo, drink shots of this vodka chilled to freezing.
Mission 4 - Remnants of Tsardom
Location:
Champagne
Edit
Description: This champagne is always in stock at Ivan's cell by request of US Marine Special Forces who are engages in secret missions. Ivan himself doesn't have any special fondness for it and generally drinks it as a chaser.
Mission 5 - Red Light District
Location:
Description: "Otoko-minchi" is crisp, dry, and pure rice sake that is relatively easy to obtain in Japan. People in Braat started importing this sake because it was Dr. Maeda's favorite. Dr. Maeda has been rebuked several times for trying to give this sake to his cat because he has no one else to share a drink with.
Mission 6 - Heavy Metal
Location:
Description: Ivan doesn't talk that much about wine...
But he doesn't seem to hate it.
Mission 7 - Peacemaker
Location:
Pertsovka
Edit
Description: Pertsovka is the generic term used to refer to vodka flavor with hot pepper and spices and comes in handy as a base in Bloody Mary. It is said that Caraway was extremely impressed with Ivan's Bloody Mary. However, only those able to survive a mission together with Ivan are allowed to try it.
Mission 8 - Under the Flags of Freedom
Location:
Description: "Mazou" is a legendary shochu that is difficult to get even in the mainland Japan due to its popularity. It is a full-blown sweet-potato shochu made in Kagoshima. The US National Defense Intelligence has heard rumors that it is SOD boss Isaac Kumano's favorite drink, but the authenticity of that information has not been confirmed. Incidentally, Ivan seems to prefer sake rather than sochu.
Mission 9 - Ring of Death
Community content is available under
CC-BY-SA
unless otherwise noted.